TARANAKI TŪ MAI 2017
October 20, 2017

-

October 22, 2017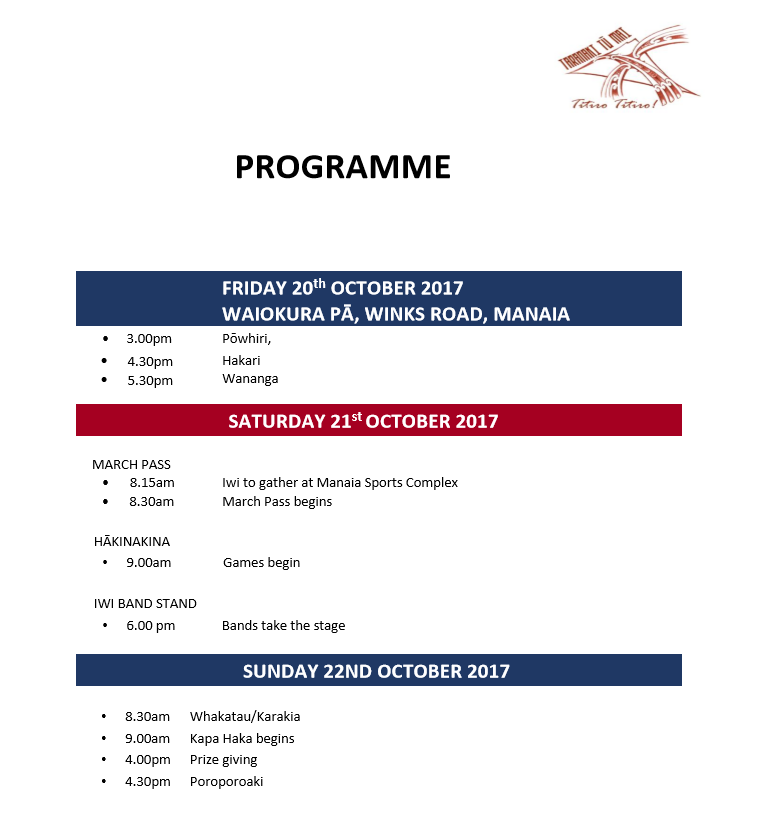 Taranaki Tū Mai is a biennial event where iwi of Taranaki come together to celebrate Taranakitanga, Whanaungatanga and Whakapapa through Hākinakina (sport), Kapa Haka (cultural performances) and Wānanga (learning forums).  This is the fifth Taranaki Tū Mai Festival to be held, following the hosting in 2009 by Te Ātiawa at Waitara, 2011 by Taranaki Iwi at Parihaka 2013 by Ngā Rauru Kītahi at Waverley & 2015 Ngāti Mutunga at Urenui.
The aim of Taranaki Tū Mai is to promote and celebrate Māori unity in Taranaki.  Taranaki Tū Mai offers something for everyone, from our mokopuna to our kaumātua.  It allows for whanaungatanga to be practised, valued and experienced inter-generationally, and with other whānau, hapū and iwi.  In this respect, it helps us to foster our Ngāti Mutunga connections with other iwi of Taranaki.
The Festival gives us, as Ngāti Mutunga uri, a chance to come together, and to represent our people on the sports fields and courts, as well as on the marae and performing stage.
DATES
Taranaki Tū Mai will take place from Friday 20th October – Sunday 22nd October 2017 (Labour Weekend).
PŌWHIRI – Friday 20 October 2017
The pōwhiri for the Taranaki Tū Mai Festival will be on Friday 20th October 2017, 3pm at Waiokura Marae, Winks Road, Manaia.
HĀKINAKINA (Sports) – Saturday 21 October 2017
There are many sports that will be played at the Taranaki Tū Mai Festival this year.
Golf
Tennis
Netball
League Nines
Rugby Sevens
Touch Rugby
Basketball
Darts
Outdoor Bowls
Kī-o-rahi
Scavenger Hunt
Tug-o-War
Kaumātua Games
Tamariki Activities
REGISTRATION
Our Ngāti Mutunga Uri registrations for Taranaki Tū Mai 2017 have now closed.  If you would like to register please contact Raymond at the Runanga office (06) 7523247.
ACCOMMODATION
Aotearoa Marae has been booked for the duration of the festival.   Whānau wanting to stay please contact Raymond atthe Runanga Office (06) 7523247.
Costs per person:
Adult (18 years and over)        $20.00
Child (17 years and under)      $10.00
FURTHER INFORMATION
If you require any further information please contact Raymond at the Rūnanga office on (06) 75 23 247.