Mai Titoki ki Te Rau o Te Huia
From Titoki to Te Rau o Te Huia
The above pepeha relates to the northernmost and southernmost coastal pā of Ngāti Mutunga. Our area of interest extended beyond these two pā as described below:
The traditional rohe of Ngāti Mutunga is indelibly etched into both physical and historical landscapes. The Titoki ridge rises from the marine shelf in the northwest and signals our coastal interface with Ngāti Tama.
From here, the Titoki stream outlines the extremities of tüpuna mana as far north as the Mangahia Stream from which an easterly direction is struck to Huanui, then northeast to Waitara-iti.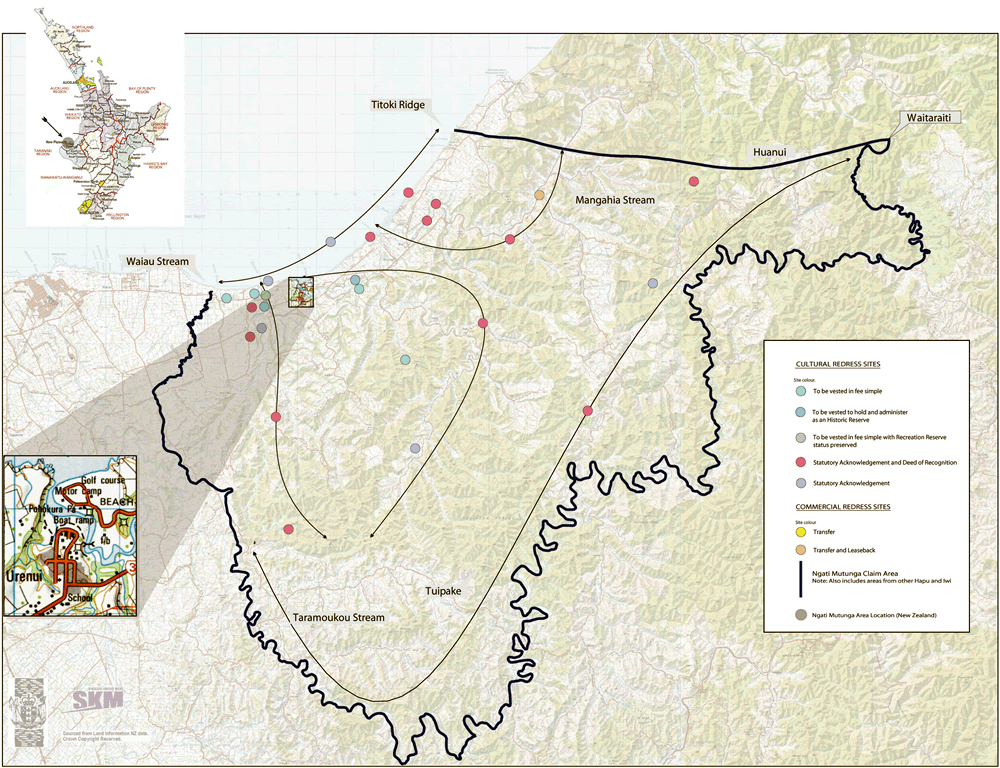 The rohe then finds a natural eastern definition in the Waitara River as the river flows southward to the Pouiatoa precinct. From here the border extends further south and then northwest along the Waitara River to a point where the river connects with the Taramouku Stream.
The confines of manawhenua are then traced in a northerly direction skirting slightly west of the Poukekewa, Poutotara and Pukemai streams. The Mangahewa Stream then provides an outline for the duration of the course to the coast.
The old settlement in the district of Te Rau o te Huia was bounded by the Waiau River and its remains mark the area of Ngāti Mutunga's traditional southern boundary.
The area of the Ngāti Mutunga rohe described above is approximately 63,200 hectares (156,000 acres) according to a digital map calculation done in 2003.
A map of the Marine and Coastal area claimed by Ngati Mutunga under the Marine and Coastal area (Takutai Moana) Act 2011 can be viewed by clicking here.